Journal Entry:
Thu Jan 10, 2013, 11:02 PM






Greetings everyone and happy new year!

This journal has to do with

&

which everybody can always use. Can I get a



So, here we go

:thumb38526540:
:thumb282825742:
:thumb39468426:
:thumb344958373:










Come and order my new 2013 Calendar Here




©2012-2013 Creativemikey. Please do not copy or reproduce my images and/or words without my permission.





Expose Yourself. Expose Deviants. Expose Art
dALinkSystem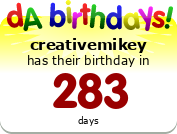 Watch